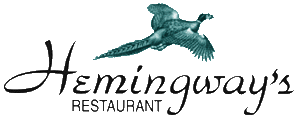 Hemingway's at Home
Dinners in home. A special service for those who wish to dine in the privacy of their personal or rental home. Renowned for the use of high quality ingredients simply prepared, chef Ted Fondulas will select ingredients to be transformed by his staff for delectable dining in seclusion.

You may also have a cooking demonstration by Ted in the privacy of your own home or condominium.
It's a great party idea.

Optional: For a spectacular event or vacation we can arrange a luxurious house with a beautiful demonstration kitchen.
For further information visit our menu page or
phone 802-422-3886 or email us.


Chef for a Day
Come behind the scene into Hemingway's kitchen with Chef Ted, where you'll learn how to chop, peel, pour, strain, grate and dice with aplomb! In the heart of Vermont country you will transform farm fresh products into a scrumptious meal.
Afternoon preparation of the night's menu is followed by two four course dinners with wines for you and a friend. $350.
Afternoon preparation of the night's menu followed by one four-course dinner without wines. $150 Tax and gratuity is included.
Come be Chef for a Day. Come learn the Heming-way.
You'll laugh and have a good time too!
See photos here







See what you just missed? Visit Vermont in the spring to experience firsthand the romantic beauty in nature's sub-text of
Vermont's Other Foliage


Spring Forage

Vermont's Other Foliage season is also the season of searching for earth's early shoots of fiddle heads, Japanese knot weed, wild ramps, and maybe wild nettles, even morel mushrooms if we get lucky! Of course dandelions will be ripe for picking too. Come romp through Vermont with us in search of these short-lived and limited delicacies. Chef Ted will create a supper around our finds or you can take yours home and revel later in the culinary delights of your own cooking prowess.

Visit our blog, The Ricotta Diaries, to view photos and read about what happened.



Tour de France
July

In conjunction with the Killington Wine Fest
Given the number of cycling adventures Killington is offering this year, we felt it apropos to have a tour of our own. We shall begin in Alsace with Domaine Weinbach, coast down to Burgundy to enjoy Vincent Girardin's wine, and with a little detour to Rhone we shall finish with two wines from our friends at Perrin & Fils--a votre santé!

MENU:
Vermont Goat Cheese, Roast Corn, Tomato and Brioche
Domaine Weinbach, Gewürztraminer Reserve Personnelle, 2007

Wild Bass with Maine Lobster, Summer Vegetables, and Light Ginger Broth
Vincent Girardin, Chassagne-Montrachet Premier Cru la Romanee, 2007

Wood-Roasted Duck Breast with Braised Duck, Olive and Fennel
Perrin & Fils, Vacqueyras Les Christins, 2007

Blueberry Tart with Basil, and Honey Ice Cream
Perrin & Fils, Muscat Beaumes-de-Venise, 2007

Menu subject to slight change due to availability of product.
$75. per person for food and wines


Food Odysseys
Join us on one of our culinary holidays, where we taste and learn in kitchens and vineyards, farms and markets, gardens and groves. If you are interested in having a Food Odyssey in Vermont and/or Montreal sign up for information. Meanwhile you can view photos and details of our other escapades to Italy and France with hands-on culinary classes; tastings of local specialties: wine, cheese, olive oil, meats, balsamic vinegar; and tastings at famous estates, markets, farms. We visit vineyards, artisans, and historic sites, and revel in historic, traditional, and contemporary cuisines.



The Vermont chapter of the
American Institute of Wine and Food
is dedicated to disseminating knowledge about the benefits and pleasures of good food and drink. Reaching out to grade school children with Days of Taste, as well as seasoned lovers of food & wine with adult learning adventures, networking and social affairs, the AIWF also provides a scholarship for budding high school students with culinary interests. You too can join us in our educational mission.
Email us or visit www.AIWF.org

ALWAYS GOOD FOR GIVING!
Purchase of the AIWF label of Grafton Village 2 year Classic Cheddar Cheese will help send a Vermont student to school with the AIWF Vermont Culinary Scholarship. It's simple to buy our smart and famous Vermont cheese now.


ART FOR SALE
View our abstract acrylic paintings by Laura Finn, ink paintings by Peter Bramhall, water colors by Alice Sciore, abstract oil paintings by Tom Merwin, and hand-knotted wall hangings by David Stearns.


Paintings from the estate of Cecil C. Bell
(1906 - 1970)
We are pleased to offer private viewings of Bell's Vermont oils as well as gouaches and prints from Vermont and New York.

THE HISTORY OF VERMONT'S ASHCAN ARTIST:
Cecil C. Bell painted local portraits and Vermont pastoral scenes from the 1930's until his death in Rutland in 1970.

Born in Seattle, Washington, and a student of the Art Institute of Chicago, as well as the Art Students League of New York under Harry Wickey and John Sloan, Cecil C. Bell has had his work in the public collections of major museums such as The Metropolitan, Cooper-Hewitt and The Whitney in New York, The Smithsonian Institution, The American Academy of Arts and Letters, the Storm King Art Center and the Parrish Art Museum, as well other prestigious art collections. He resided in Staten Island and Vermont.

Bell's style is reminiscent of the Ashcan school of painters of the 1930's--so called because the depictions of daily neighborhood life sometimes included rooftops replete with laundry or alleys with ash cans. Cecil Bell, affectionately known as "Spike" to his friends, did not share, however, the doom and gloom philosophy of his fellow artists in the Social Realist movement. Instead he portrayed life as he saw it--with un-sung layers of promise.

Phyllis Barton, biographer of Cecil C. Bell, says "Like a writer digging for copious information, Bell with tender skill shaped Vermont history in paint."

Please note that we would be happy to help any art student with a thesis concerning Bell.
artcyclopedia.com
Sullivan Goss / Art of the American Scene
University California Santa Barbara
View Cecil C. Bell Vermont Gallery works for sale.


CELEBRATING?
Following are some suggestions if you would like to make your night more than extra special!

* Souvenir sterling tack pin (1" pin of our pheasant logo):
$14.95 in gift box

*Bottle of Champagne or sparkling wine at your table:
approximate price ranges: $35-40 / $65-75 / $150-200

*Birthday candle with token boutonniere for men and small posy for women. n/c

*Happy Birthday / Anniversary on the rim of your dessert plate(s): n/c

*Gift box of Hemingway's homemade white chocolate-maple nut candies: $5.95

*

Looking for engagement or wedding rings? Visit this Celtic store for something beautifully different.

Visit here for more information on Hemingway's weddings.
Marriage Vows: New or Re-newed
Thanks to Vermont's marriage-friendly code, exchanging your vows here at Hemingway's couldn't be easier or more romantic!

The price for your Four-Star Wedding is only $300 and includes:
a four-course dinner — for two, naturally
a keepsake menu
a bottle of the luxurious Perrier-Joüet Champagne
a pair of hand-painted Perrier-Joüet Champagne glasses
scheduling a justice of the peace ceremony.
Email us
or call 802-422-3886 to find out just how easy it is to pop the question in the morning and kiss the bride that evening.
---
WIN!
Send us your favorite wine and food combination and you'll be entered to win our custom designed sterling silver Hemingway's pin. Our pheasant logo has been sculpted into a versatile sterling silver pin or tie tack. The one-inch silver pin with jewel clasp has the state of Vermont outlined on the back along with the word Hemingway's. Send us your entry now!

When entering our contest remember to choose one of YOUR favorite combinations, not a pairing which we serve.

Following is a recipe introduced by us over 20 years ago! It is so popular we still offer it on our menu. Try it. You'll like it.

www.hemingwaysrestaurant.com/new
Hemingway's Cream of Garlic Soup
featured in Bon Appetit
8 Servings
6 cups rich chicken or light game stock
1/2 pound smoked ham, cut into 1-inch pieces
10 garlic cloves
1 leek (white part only), coarsely chopped
1 lb. boiling potatoes, peeled and cut into eighths
1/2 cup whipping cream
Salt and freshly ground white pepper
Minced fresh parsley

Bring stock to a boil. Add ham, garlic leek and potatoes. Cook 10 minutes, stirring frequently. Return to boil, then reduce heat. Simmer 2 hours, stirring occasionally.

Add cream and cook over medium heat until heated through, stirring frequently. Season with salt and pepper. Ladle soup into bowls. Sprinkle with parsley and serve.
---
Vermont's Superchef

Ted Fondulas, co-owner of Hemingway's Restaurant in Killington, is one of 70 chefs in the United States included in Superchefs, published by John Wiley & Sons, Inc. Signature recipes from "America's New Royalty" were compiled and tested by Karen Gantz Zahler.

Superchefs boasts more than 150 recipes and helpful hints from such admired and inspired chefs as Wolfgang Puck, Jeremiah Tower, Jean-Georges Vongerichten and Stephan Piles.
Another fantastic cookbook to add to your collection is Great Chefs of the East with over 200 pages of recipes and photographs based on the popular TV series. World famous restaurants from Washington D.C. to Maine are featured including the former Lutece, Jasper's, Jean-Louis at the Watergate, and the still celebrated Inn at Little Washington, Le Bec Fin, "21" Club, and Hemingway's!
"Overwhelmingly the choice as best food in the area..."
SNOW COUNTRY

4988 US ROUTE 4 • KILLINGTON, VT • (802) 422-3886
Ted and Linda Fondulas
"Extreme Cuisine--Unplugged"