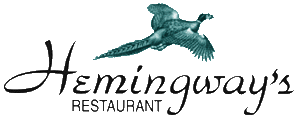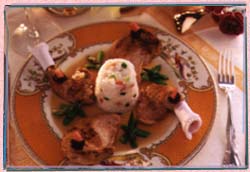 MENU
wood-roasted salmon with white beans & truffle

butternut squash soup with Maine scallop & crab cake

pot pie of winter vegetables with braised Vermont rabbit

Italian style risotto, exotic mushrooms, sage, & bacon

fresh Vermont goat cheese soufflé with endive


__________


wild Atlantic striped bass, Maine lobster, baby spinach, golden beets

seared breast of duck, confit of duck strudel, cherry chutney

pan-roasted veal chop with cheddar corn cake & chard

duo of beef with fingering potatoes, Brussels sprouts, asparagus, & shallots


________


salad of organic greens, citrus vinaigrette

pistachio-crusted pear, famous Vermont blue cheeses, port drizzle

tower of Belgian chocolate with spiced lace

napoleon of lemon & hazelnut meringue

Grand Dessert Tasting

Glass of Sherry or Port, or Glass of Dessert Wine


Priced fixed three courses: $58
a la carte pricing: $13-18 appetizers / $32-42 main courses / $12-16 desserts




Vegetable Menu Available
An all vegan menu may be had with advance notice.
Following are sample menu items:
Fallen Soufflé of Vermont Goat Cheese, Endive & Lamb's Lettuce
Vegetable Strudel with Pine Nuts
Risotto of Local Exotic Mushrooms
Crown Romanesco with Root Vegetables
Timbale of Zucchini with Fresh Herbs and Couscous
Asparagus Flan


On slower nights, a multi-course small portion
FEASTING MENU
is also available nightly
and can be tailored to accommodate you and your guests.
Typically $75 for 8 smaller courses / table minimum




JUST ASK FOR IT!
Let us know if you have a specific dietary request. The popular low carb diet is easy with our menu. We've done wheat free, low fat, Pritikin, Atkins, South Beach, Celiac--you name it. Gluten-free is easy because we cook from scratch and most of our offerings are non-gluten. Though it may be necessary to plan ahead for some requests, and though some menu items are subject to last minute changes due to availability of seasonal ingredients, we can usually accommodate your needs. For those who enjoy bread, we make ours in house!
Come visit; our friendly staff is waiting to spoil you.


We strive for moderation, balance and harmony in and out of our doors--which we opened in 1982. Having the good fortune of living in these Green Mountains has allowed us to forage and use locally raised ingredients for the past two decades. Back then as young restaurateurs, we were tuned into the nascent culinary revolution in California and New York City. We too wanted to make an American statement of fine dining in a here-to-fore European discipline, but we loved living in Vermont, so we looked to indigenous animals and produce in this beautiful state and searched out local farmers. I guess then we were what is known now as loca(l)vores! One of our highlights was to serve the first farm-raised venison at our farmer's dinner in 1990, which we believe was an inspiration to the Vermont Department of Agriculture who pursued collaboration between chefs, farmers and consumers. Governor's letter. We continue to use locally raised rabbits and game birds as well as other meats and vegetables when possible. In 2002 our Harvest Dinner hosted area farmers who regaled our clients with tales. Visit our Calendar of Events for upcoming dinners!


FINE DINING HALL OF FAME

GREAT CHEFS OF THE EAST


Hemingway's at Home
OUR dinners in YOUR home. We introduce a special service for those who wish to dine in the privacy of their personal or rental home. Chef Ted Fondulas will select ingredients to be transformed for delectable dining in seclusion.

Multi course dinners without beverage range from $100 per person plus tax and service. Phone or email us. to begin a discussion about the menu you would like to have.
International guests often inquire about tipping policies.
Quality service is customarily acknowledged by
a minimum gratuity of 20%.
At Hemingway's, with the exception of parties of more than six persons, no service charge or gratuity is added to your bill.
Return to Top of Page
Vermont Fresh
TOP 25 Restaurants in America.
-Food & Wine

"...flawlessly sophisticated food..."
Travel & Leisure February 1997
4988 US ROUTE 4 • KILLINGTON, VT • (802) 422-3886
Ted and Linda Fondulas
"Extreme Cuisine--Unplugged"