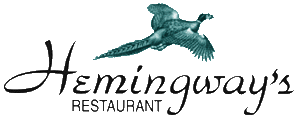 What People Say About Us
Executive chef and co-owner, Ted Fondulas along with his wife and partner, Linda Santucci Fondulas, opened Hemingway's in 1982. "We wanted to bring comfortable and fine dining to the American countryside," says Ted. "Our version," continues Linda, is an eclectic blend of classic and contemporary. We love living in this exotic countryside and having the luxury of people from all over the world come to our door."

"Killington seems an unlikely place for a serious culinary adventure, yet Hemingway's will meet the loftiest expectations. The menu changes frequently to ensure that only the freshest ingredients are used. If it's available, be sure to order the wild mushroom and truffle soup."


- Frommer's Guide
TOP 25 Restaurants in America.
-Food & Wine
"...excellent...graceful... delectable...."
- Conde Nast TRAVELER
"Overwhelmingly the choice as best food in the area...."
- Snow Country
"...a 'must' for any visitor."
- The Robb Report
"... deserves a Nobel as surely as its namesake did."
- New England Monthly
10 Great Places to Dine High on the Slopes
USA TODAY, 3/03

The Top Rated Restaurant in Vermont
Burlington Free Press, 10/02

Perfect Tables in the World
Esquire, 10/99
FINE DINING HALL OF FAME 1998


Four diamonds 1986-2006
Hemingway's was one of only two restaurants in the entire country to have kept a four-diamond designation for over 20 years in a row. In a personal congratulatory letter to the Fondulases, The Honorable James Douglas, Vermont Governor, said, ...Hemingway's is one of Vermont's great culinary treasures. I would also like to commend you for your ongoing involvement with the Vermont Fresh Network, and for your strong commitment to using high-quality, locally produced agricultural products.
PDF download Governor's letter.

Cheers! 10 best après-ski scenes / MSNBC travel January 2011

People's Media 2007

2008, 2006, and 2005 Santé Restaurant Awards for Service, Cuisine, and Spirits
(Have you heard about our Love Potions?)

Gayot.com says, "...a dining experience you will cherish."

Yankee Travel, 2004

Ski Magazine

Travel-Watch

Frommers 2003

F&B; World Vermont Life Summer 2007

Top 10 Aprés Ski Scenes, Travel MSN
Natural Traveler

IN A WORLD WHERE TIME IS SHORT,
WE STILL SPEND THE ENTIRE DAY
CREATING AN EVENING ESPECIALLY FOR YOU.

OUR MISSION STATEMENT
To serve in a gracious and professional manner a delicious and modern cuisine based on multi-cultural classics. A good restaurant is defined as one where all elements -- food, beverage, service and ambiance -- are in harmony. We strive for this balance at a high level, fostering an environment for pride. Since the word restaurant is derived from the word restore our business is to nourish both body and soul. We value our customers and place their satisfaction before ours. We hope to anticipate their needs so they feel enriched by having dined here.
For us good service is going the extra mile, beginning before the customer arrives, continuing after his departure.

We opened Hemingway's at the beginning of America's culinary revolution. Heretofore "good" restaurants had menus written in French. We wanted our upscale restaurant to have an American emphasis, hence an American name. Our vision to serve Vermont natural products led us to choose a pheasant as the restaurant's logo because of it's indigenous Vermont habitat.




Being human we know we can't be perfect 100 percent of the time, but we do try!

What an oasis--our first visit after many years of coming. Finally a dining experience on par with the beauty of the land. Thank you! Jay Desiree, Newtown CT 9/11/10

Our entire trip was based on dining in your restaurant. You did not disappoint! Superb. H. Goldman, MD 7/3/10

Always a pleasure to experience the excellent food & outstanding service...one of our favorite restaurants in all our international travels. Dr. Walsh, NJ 9/5/09

I have been here 3 times now, and it is perfection. Nothing needs changing. I feel so happy when I'm here. Sara, Concord, NH, 7/09

We had a great dinner & wonder why we didn't come sooner. We will be back! & will spread the word about how fabulous you are. Melissa N. MA, 3/09

You could taste the love put into each extraordinary course. The service was excellent and perfectly paced for a relaxing and decadent evening out! Jenny W., NY, 2/09

The food & wine were exquisite pairings. We are from Philadelphia & there are fabulous restaurants--but none match the ambiance, quality of freshness of food, & kind attention in serving. Peggy & Jim, PA, 1/09

The most romantic place & excellent (beyond excellent) service. Michelle, Brick, NJ, 12/4/08

It took us 25 years to get here, but it was worth the wait! Roseanne, Norwalk, CT,12/28/08

Wherever you are in the world, if you find yourself in a great restaurant such as Hemingway's, you are in a part of heaven. Barbara & George F., 10/08

Here's a good review submitted to Trip Advisor
What a wonderful, magical restaurant. Thank you. Anonymous, 9/08

Wish you were in Long Island but then Vermont would not be as special!" The Fritch's,NY, 9/08

We have been here on & off for the past 20+ years and forgot how wonderful your restaurant is. We will put it on the top of our list and always come when we visit Vermont. D. Corsones, 8/08

You made our 40th anniversary an adventure and joy that we will long remember. Thanks to all of you for being so good. D.R. Richmond, 8/08

We had an extraordinary dining and service experience at your restaurant. I think the woman at the... front desk assumed from the way we were dressed that we were not the "type" to enjoy a truly fine dining experience,but she was wrong. Thank you for allowing us in to dine with you the way we were dressed (we had been looking at Forts all day), and we will most assuredly return. J.Hall, 5/08

The best balanced food I have eaten in years, if possibly ever. I need to move to Vermont or please move to London! D. Terleckyj, 3/08

Killington = Earth / Hemingway's = Heaven" T. Civile, 3/08

The vegetarian menu is amazing--light, healthy, and there is no oil, like most. Congratulations!" J. Dorow, 3/08

Absolutely amazing service. Shawn actually came to our hotel to pick us up because our car was stuck. Never before have I experienced customer service like this! A. Webber, 2/08

Please stay exactly where you are until I provide a location in Manhattan for...{you} to make all of us very very rich." I. Frimet, 1/08

Absolutely wonderful. Everyone we spoke to about your restaurant was right. We will pass the word that you are still wonderful. M. Morgan, Middletown Springs, VT, 12/08

Perfect food, perfect presentation, perfect service, perfect music. This must be heaven. Anonymous, 3/07

Despite excellent reviews on the website, this exceeded all expectations! Food was fantastic, service superb and wine wonderful! We'll be back and definitely recommend it to others. Only suggestion would be to update photos on website--doesn't do it justice. Julia D., New York, NY, 12/06

Wonderful! Everyone in the area said this was "the" place to try...we were not disappointed! André B., Novelty, OH

Here over 20 years ago and upon returning since their children are in college:
This is more than a restaurant! Thanks for the memories.
Eversens, Long Valley NJ

My fiance and I have been coming to your restaurant the past three years and have always come to find an awe inspiring evening of culinary pleasure. We are both General Managers of hotels in New York City. ...we have dined in some of the best places in New York City, none have come close to beating the consistency, the aromas, the palette pleasing experience and the service.... Hemingway's is our favorite restaurant, we will continue to visit and ecstatically spread the word. I cannot wait until we visit you next.
K. David, New York, NY 1/06

Outstanding quality ingredients & preparation. The service was fabulous. You made my vacation!! Thank you. A bargain @ any price."
G&S; Gallo, Phil. PA

Everything was delicious as well as healthy....exceptional dessert that more than met my requirements for low fat and low sugar.
O. Houck, NH

We went to your gorgeous restaurant a few years ago and we want to renew this magnificent experience!
Micheline & Guy, Quebec, Canada

Compares with the best meals I've had in the US & Europe. Very professional & personable--thanks for a lovely evening!
J. Abston, Woodstock, VT

Thank you for taking us out of reality.
Dr. Parsons, NJ

Interesting work & flavors with a lightness, even of desserts. Getting this effect without extra fat is a great skill.
J.E. Root, TX

Food was exceptional...friendly, attentive service...elegant yet comfortable ambiance...very impressive. Hemingway's rocks!
M. Cyr, CT

I have driven by this restaurant on many occasions.
I only wish I had stopped sooner!
K. Fischer, Nashua NH

We have been coming here since your opening in 1982. We are delighted to see that you have not compromised your standards in any way. If anything, your restaurant has gotten better with age!
Lawrence Merse

"This will be our third visit to Hemingway's. Our first visit was last year, & my lady friend, who generally likes simple things, looked at the menu, thinking it was far too eclectic.... In despair, she asked me to order for her, certain that she would eat a couple of bites to be polite. She was wrong, & Hemingway's is now her favorite restaurant. "
PG, Stamford CT

"My husband and I visited Hemingway's...and had a marvelous experience, again! Every single element of the meal was exceptional, from the wonderful breads and rolls to the "duck consommé " to the amazing desserts! We wish that everyone who comes to Vermont could experience Hemingway's...it is worth the trip!"
Margie F., Morristown NJ


RELATED SITES TO REMAIN AT YOUR SERVICE:

Discover Killington

Killington Ski Resort

Killington Lodging

Killington Chamber of Commerce

The Mountain Times

More on Killington, Vermont

Rutland Vermont Chamber of Commerce

State of Vermont

Vermont Tourist Information

Vermont Chamber of Commerce

Vermont Hotels Motels

Virtual Vermonter Travel Site

Woodstock Vermont Chamber of Commerce


When you need assistance with or you are looking to purchase an inn or restaurant in Vermont contact Hospitality Consultants


The Red Horse Antiques

Linda Clifford Scottish & Irish Merchant


Hiking GPS Store

The Sports Index

Aigam Search Engine

Connect Home Furniture & Kitchen Appliances

Organic Consumers.org website for high standards


Riverside Farm Weddings


For wine related links visit our Wine Tasting Menu page


Waitstaff looking for work Waiting2work


Our stellar waiter, Andrea Taravella, sells his Italian pastries at Booconcin D'Vino

Rutland Farms & Foods

Black River Produce

Cavendish Game Birds

Vermont Quality Meats

Provisions International/Wholesale

Gourmet HQ

GNATV / Girls Night Out cooking show with Chef Ted


Traveling:

Healthy Highways

Find restaurants serving local foods

San Francisco restaurants at yummycircle

Chef Brian worked at Hemingway's


For art lovers:

Vermont Gallery

Behind the Scenes at Glen Campbell Plaster & Iron

Have you ever tilted at windmills?

Cornish Colony Museum / Maxfield Parrish


Composer, George Tsontakis is a familial connection and featured composer-in-residence for the Chamber Music Society of Lincoln Center.

Tango Vermont

Noël Riley Fitch Noël is the biographer of Julia Child and author of Hemingway in Paris, a self guided book of walks for the Parisian traveler and Hemingway aficionado.

Captain Bob's logo marketing site, Promo Focus




You are on our helpful sites links page. Return to Top of Page.

PRESS KIT
4988 US ROUTE 4 • KILLINGTON, VT • (802) 422-3886
Ted and Linda Fondulas