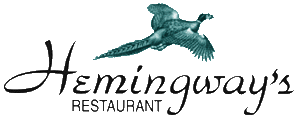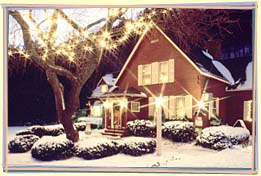 Our Diverse Ambiance
The rustic stone wall atmosphere of our old-world wine cellar is a novel place to dine. Imagine having your party of 10-12 seated at one large table with hand-crocheted table skirting, surrounded by the romance of centuries-old stone. This secluded area is perfect for your private business meeting or celebratory dinner.
Our brick-walled garden room accommodates up to 24 and on chilly Vermont nights a fire tumbles in the brick hearth. Ivy adorns the windows which overlook the summer herb garden.
Our peach color vaulted room with highly polished wood floor, elegant table skirts, dark upholstered chairs and sparkling chandeliers regally seats 35. Larger groups can use both upstairs rooms.
The ambiance of each of our dining rooms, combined with our outstanding menus and staff of perfectionists, brings you a night you'll want to remember.
Our separate rooms are perfect for smaller groups, but don't discount a group of
two
. Why, each table of two at Hemingway's is designed for romance.
Esquire
even said we were
"one of America's most romantic restaurants."
If it is necessary to keep your privacy secure, with advance notice we can accommodate you with a private entrance to our secluded wine cellar dining room.
If you are celebrating an
anniversary
we can help you renew your vows with a Justice of the Peace.
We can help your
REHEARSAL DINNERS & BACHELOR PARTIES
be as memorable as your Vermont wedding!
For any occasion, be sure to check out our
What's New Page
to find a list of celebratory gift ideas.
Visit here for more information on WEDDINGS.
If you are thinking of bringing a

larger group
to Hemingway's, you're also making the right choice.
Since we were not conceived as a hotel, however, groups must meet the requirements of our small establishment. In order for the food to be grand, the service excellent, and romance protected, we accept private parties over 8 only when we are not anticipating a busy evening. Visit our
group information page.
We know you too spend a lot of time creating the "right" experience for your guests or clients, and because
value matters
, dining at Hemingway's will give you the
consistent service, superior cuisine and attention to detail
you look for.
Give your guest or loved one a distinctive quality experience. Please feel free to call with any questions. We look forward to serving your culinary needs as
Vermont's place for the best local foods.
If you have any questions
click here
to e-mail us now.
Gayot.com
says, "...a dining experience you will cherish."
Customer Photo Album
A leisurely dinner is still one of the best stress relievers so VISIT VERMONT for tennis, horse back riding, boating (as in sail, kayak, canoe, or motor), swimming (as in lake, pond, pool, stream or swim hole), or you could do plenty of nothing, or read, and again there's always great dining and GOLF to work off the calories.
Killington is centrally located only a four iron away from the best Vermont courses,
New England Journal of Golf
, 2003. North, East, South, or West, if you like to golf, why stay anywhere else in Vermont than Killington?
Green Mountain National
Woodstock Country Club
Okemo Valley Golf Club
Rutland Country Club
National Geographic Traveler, March 2004

Determines "...which of the world's great destinations remain great ...."
Out of 115 destinations Vermont ties for 6th place!
"One of the 50 Places of a Life Time"
National Geographic Traveler
Special Collector's Edition
October '99.
We share this distinction with Hong Kong, The Australian outback, Paris and the Amazon Forest. The author quoted Maxfield Parrish as saying, "I live in New Hampshire so I can get a better view of Vermont."
(Sorry, New Hampshire.)
More reasons why we love Vermont including
Vermont's Other Foliage Photo Link

Return to Top of Page
TOP 25 Restaurants in America.
-Food & Wine

"...flawlessly sophisticated food..."
Travel & Leisure February 1997
4988 US ROUTE 4 • KILLINGTON, VT • (802) 422-3886
Ted and Linda Fondulas
"Extreme Cuisine--Unplugged"