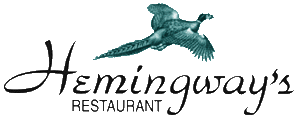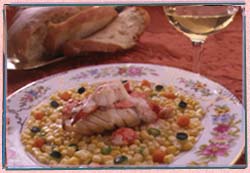 WINE TASTING MENU
Tasting portions of wine have been chosen to complement the following sample of our
Four or Five Course menu.


Pot Pie of Winter Vegetables & Braised Vermont Rabbit
Boyden Valley Winery, Seyval Blanc, Vermont, NV

Wild Striped Bass, Maine Lobster, Baby Spinach, & Golden Beets
Martin Ray, Chardonnay, Napa, California, 2007

Seared Breast of Duck with Confit of Duck Strudel
Terre de Trinci, Montefalco Rosso, Riserva, Italy, 2005

Pistachio-crusted Poached Pear with Local Blue Cheese
Easton Late-harvest Zinfandel, California, 2006

AND / OR

Vermont Maple Cream with Roasted Bananas
Les Sablettes, Sauternes, France, 2006

$60 four courses / $75 five courses
$90 four courses with wine / $115 five courses with wine



Are you one who waits for a special reason to dine out? Remember, though we sometimes have "special" wine dinners, Hemingway's offers you a wine dinner every night! All you need is a friend to make the party complete.

We are also happy to create a special dinner just for you.
A multi-course small portion
FEASTING MENU
is also available nightly and can be tailored to accommodate you and your guests.


Hemingway's--where wine and food
meet their match:
Since the inception of our restaurant in 1982 we have promoted wine through education of our customers and servers. Our program began as a monthly wine maker series of dinners and lasted until 1986, at which time we introduced the above nightly Wine Tasting Menu.
On occasion we still have events which revolve around food and wine pairings and produce such comments as

This rates as one of the top five best food matches with my wines, Jean Trimbach,
F.E. Trimbach Vineyards, Alsace, FR.

That was the best food pairing I've ever had with my wines, Gus Anderson,
Conn Valley Vineyards, Napa, CA.


Visit our WHAT'S NEW page for upcoming events.

****
Enter your own wine and food pairing in our
Wine & Food Pairing Contest
to win Hemingway's sterling silver pheasant logo pin.

****

Also try our original recipes for Martini Thyme and Burnt Orange Kir featured in New Classic Cocktails by Gary Regan and Mardee Haidin Regan, or better yet visit us soon here at It's the real sip!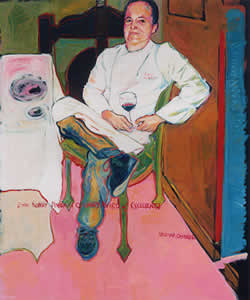 Ted Fondulas was honored with the "2001 Robert Mondavi Culinary Award of Excellence" commending his culinary achievements and understanding of pairing wine with fine cuisine. Forever commemorating this event, Mondavi Winery commissioned California artist, Rise Ochsner to do a full portrait of Ted.

Among other culinary luminaries to receive the award are: Charlie Trotter, Thomas Keller of the French Laundry, Patrick O'Connell of the Inn at Little Washington, Todd English, Jean-Georges Vongerichten, Daniel Boulud, Charlie Palmer, and Mario Batali to name a few.

More Wine Related Links
Vermont Chapter/American Institute of Wine and Food
"Enhancing the quality of life through education about what we eat and drink."

Clive Coates, MW

LocalWineEvents.com

Santé Magazine for Restaurant Professionals

Food & Beverage Magazine

Vermont Wine Merchants

Riedel Wine Glasses

Nat Decants

Return to Top of Page.
TOP 25 Restaurants in America.
Food & Wine
"...one of the most outstanding restaurants in the galaxy."
Ski New England
4988 US ROUTE 4 • KILLINGTON, VT • (802) 422-3886
Ted and Linda Fondulas
"Extreme Cuisine--Unplugged"